You've gotten breast implants and now need to get new bras. Just like it took time to understand your breast size before your implants, the present is no different—breast implants and breast tissue move and shape differently than natural breasts. So, measuring for your new bra size will be based on a math equation, using basic measurements. To help you get started, we've provided a guide that will best determine what your new cup size will be.
What you will need to measure your bust
To start you'll need to grab a few things:
Fabric tape measure
A mirror
Someone to help you, if possible
How to measure your bust after breast augmentation
Your first measurement is where you'll need the most assistance (either another individual or a mirror), as you are going to take a set of underbust measurements to determine your bra band size. This measurement is taken just under the breasts, around the rib cage, where your bra band sits. The tape should be leveled around your body, no dropping to your waist or up your back.
Our next measurement set will be the fullest bust measurement. Take this measurement around the fullest part of your bust, not necessarily at the nipple, but wherever is fullest. Every woman is different, so the fullest portion of the bust can be higher or lower than the nipple.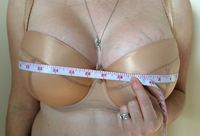 The measurement around your underbust will be the start for your band size. In the photo above it would be a 28. All brands fit differently, so you may find that with a 28-inch underbust, you may want a 30-inch band, maybe even a very firm 32 inches. To find your starting cup size, you will subtract your fullest bust measurement from your underbust measurement.
The resulting number is your cup volume, with 1 inch for one cup size. Using the photos as an example, here is a mathematical example: 38-28=10. 1=A, 2=B, 3=C, and onward depending on the lettering used by each bra designer.
Sometimes ladies find that their measurements come up with a scary cup letter. Don't be afraid! Implants fit into bras differently, so you cannot expect your D-cup to look like a woman with a natural D-cup.
Alternative methods to measuring your bust with implants
Sometimes the method above just doesn't work out for women with implants. Determine which breast is the largest and evaluate its perimeter. To take this measurement, you will want to measure from the farthest point of the edge of your implant, across the fullest part of your breast to your cleavage. Again, your fullest point may or may not be at your nipple.
Just like before, you will use the underbust measurement to start finding your band size. There is no equation for this one, just a single breast measurement. Each inch will be one cup volume just like the previously discussed method.
Estimate your cup size with a bra size calculator
Do you want something to do the math for you? The JBI forum members highly recommend this bra size calculator as one that is great for augmented breasts. Also check out the fit points on the side of that article. The photo below is a compilation to show you what points to check on your bra to see if it fits.
#1 Center gore of the bra sits flat on your sternum
#2 Band is firm, you can fit two fingers under the back and pull out slightly
#3 Your breasts fit in the cups without any breast bulging out
#4 The straps are not digging into your shoulders
#5 The underwire does not sit on your breasts on the side or in your cleavage
Note: Before wearing an underwire bra, be sure your surgeon has approved wearing underwire. Post-operation recommendations differ; your surgeon will be able to tell you when it is appropriate to get fitted for a bra. Also, be prepared for changes in your bra size through the post-op period.
Still unsure? Try online bra fit communities
Do you want to learn more or get help? Check out the Clothing, Bras, and Lingerie section of the forum. Many forum members would love to help you get a comfortable fitting bra. There are also many bra fit communities on the Internet like Bratabase and Reddit's A Bra That Fits.