Updated August 2018
If your breast implants sit very low on your chest, you could be experiencing what's known as bottoming out.

Bottoming out with breast implants occurs when your skin and underlying breast tissue are unable to hold the implant in place. Without internal support, the implant descends towards the breast crease, making the nipple appear too high on the breast. If bottoming out is apparent shortly after your breast augmentation, it is most likely due to over-dissection of the pocket. If it occurs later on, it is usually due to the weight of the implant.
How do you know if your implant is bottoming out?
Aside from the nipple pointing more upwards than forwards, you may notice:
The distance between your nipple and breast crease (known as the inframammary fold) is stretched out
The bottom breast tissue is bulging out and downward
Sagging breast skin (at the inframammary fold)
Bottoming out may cause pain or discomfort, such as a heavy or aching feeling. There may, however, be no noticeable discomfort. Some women on our JBI forum shared their experiences with how bottoming out felt.
If you have unusual discomfort or pain after breast augmentation, it's best to contact your plastic surgeon for an evaluation, as this may be a symptom of other complications.
How is bottoming out corrected post-breast augmentation?
If your implant has bottomed out, there is very little that can happen other than corrective surgery. Implant bottoming out repair may consist of:
Removing your old implants and replacing them with smaller, lighter implants
Placing your implants in the complete submuscular position, behind the pectoralis major muscle
Using biologic or engineered materials to reinforce the bottom of the pocket
Changing the pocket location
Tightening the pocket by stitching capsular tissue together (capsulorrhaphy)
Suturing the inferior mammary fold to the stronger tissues underneath (e.g. fascia or pectoralis)
These repairs can be made through the perioareolar incision, though the crease incision is usually favored since it allows for better visualization of the pocket.
Why do breast implants bottom out?

Bottoming out is usually seen in patients with very little breast tissue and skin coverage. A healthy breast has enough supporting ligaments to hold breast implants. But skin and tissue can lose laxity with age, weight loss, pregnancy, breastfeeding, menopause and certain medications or medical treatments. In these instances, if the implant is chosen is heavy (too many cc's) and extends your breast width diameter, you are at greater risk of bottoming out.
Placement may also play a role. Bottoming out is more common with implants placed above the muscle, and is less common with implants placed in the total musculofascial position (complete submuscular) because the pectoralis and fascia muscle act as a hammock, providing support for the implant.
The type of implant used does not have any relation to bottoming out. It can occur with smooth, textured, saline, or silicone gel implants.
Breast implants bottoming out photos
Here are photos of two women whose breast implants bottomed out. You can see the symptoms of the complication in the top set of photos and the results of the revisionary surgery in the bottom set of photos.
Photos provided by Dr. Don Revis of South Florida Plastic Surgery Associates
Reasons for Revision: Bilateral bottoming out; implant asymmetry
Corrective Procedures: Bilateral Internal Bra procedure; implant exchange
Pre-Op Implant Type: Saline smooth, round, moderate profile filled to 275cc
Post-Op Implant Type: Silicone smooth, round, moderate plus profile 350cc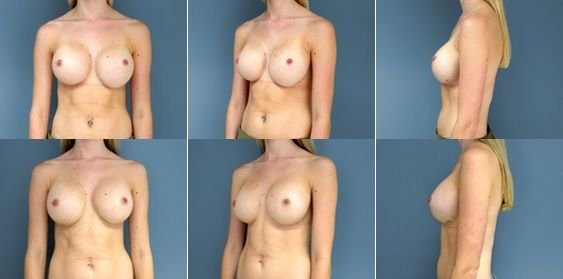 Reasons for Revision: Bilateral bottoming out; implant asymmetry
Corrective Procedures: Bilateral Internal Bra procedure; implant exchange
Pre-Op Implant Type: Saline smooth, round, moderate profile filled to 375cc
Post-Op Implant Type: Silicone smooth, round, moderate plus profile 400cc
What to do if your breast implants are bottoming out
If you suspect that your implants are bottoming out, it's a good idea to consult with your plastic surgeon. He or she can properly diagnose any symptoms you're experiencing and make a plan of action to get your breasts looking great.
It may be worrying to think that all your planning and preparation for the perfect breasts didn't go exactly how you expected, but there are communities of like-minded women to support you.
How to prevent bottoming out after breast augmentation
Whether your implant has bottomed out and you're looking to prevent it the second time around, or you want to take precautionary measures before your breast augmentation surgery, here are some tips:
Choose your implant size wisely. The bigger the implant, the more stress it will place on your breast tissue and skin.
Consider textured implants. Textured implants are designed to adhere to breast tissue, thus minimizing their movement and placement in the pocket/capsule.
Wear a supportive post-surgical bra. Wearing a supportive post-surgical bra will support your implants, taking the load off of your breast skin and tissue. Many surgeons recommend donning it at all times for the first six months to allow your tissues time to adjust to the weight of the implants.
Consider silicone over saline. Silicone implants are less prone to bottoming out because they are not as dense, and this allows them to work better with gravity. A denser saline implant Saline implants are more prone to bottoming out due to fluid wave pressures.
Avoid the inframammary fold incision. If your skin is lax and you don't have enough breast tissue, cutting through the inframammary fold could weaken the crease and underlying tissue.
Go with submuscular implant placement. Placing implants under the muscle gives added support. The implants no longer solely rely on skin and tissue to hold them up; they are supported by tough muscle.
Decrease activity for four weeks. Stretching, lifting and engaging in bouncing motions during physical activities causes the skin and tissues supporting the implant to pull and stretch, which could lead to a tear.
Ask about anchoring sutures or scaffolding materials. Anchoring sutures can secure the deep connective tissue to the connective tissues of the chest wall, while cellular dermal matrices are integrated into weak areas, giving an internal bra. Both act as barriers, keeping implants from moving downwards.
Want to learn more about bottoming out with breast implants?